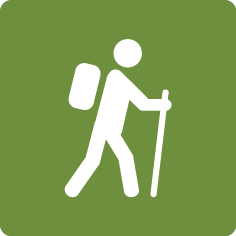 Suitability:
Hikers looking for peace and quiet in the nature (27 km)
Nature trail day trippers (4,2 km)
The length of the trail:
Hiking trail 27 km
Nature trail (day trippers) 4,2 km
Joutsijärvi hiking trail is located in the municipality of the former Kullaa area, to the east of Ulvila town, in the eastern rural area. Kullaa is situated on the highway 11 between Tampere and Pori, in the middle of the province of Satakunta. The distance to Pori is 25 km and to Tampere about 85 km. Lake Joutsijärvi is one of the largest lakes in Satakunta, and it belongs to the drainage basin of river Harjunpää. The lake water flows into the the Kokemäki River along the Harjunpää River, and from there onwards into the sea.
Joutsijärvi hiking trail is about 27 kilometers long. The route goes around the entire lake Joutsijärvi and it takes one to two days to hike it. In the south side of the lake, there is a 4.2-kilometer long nature trail, which is aimed specifically at families with children and for hikers looking for an easier passage. Both routes are in use all year round.
The nature around lake Joutsijärvi is beautiful and diverse. The silence of the nature, lake and stunning scenery attracts hikers from all over
Finland and around the world. Resting places, lean-tos and huts offer a genuine feel of the wilderness. It is possible to rent rowing boats from Cafe Vapukka. The use of motorboats is forbidden at lake Joutsijärvi, allowing for a relaxing atmosphere for outdoor activities.
Lake Joutsijärvi nature, its rare fauna with its rare bird species and the rare flora, ensure a memorable nature experience – for example the osprey, honey buzzard, sparrowhawk and falcon arrow nest on the lake and along its shores. The route terrain is largely rocky mixed forest, in parts there are duckboards. A part of the route is also illuminated. There is a bridge between lake Joutsijärvi and lake Tuurujärvi, as well as two hand-operated ferryboats.
Along the route there are plenty of resting places and a variety of services such as huts, campfire sites, wells, beach, accommodation, cafe and saunas.
Photo: Juha-Pekka Räsänen
Services and accommodation
Tammi camping area
Rekitaipaleenjärvi campfire site
Hiivaniemi lean-to
Korsu lean-to and hut
A well
Tuurunkangas hut
Paluksenpieli smoke sauna
Pitkäniemi campfire site
Maps and guides
Pori Regional Tourist Agency MAISA
www.maisa.fi
Ulvila town
www.ulvila.fi
Tammi camp area
Tammentie 197
29340 Kullaa
www.pori.fi
Silokallio Training Centre, parking place
Silokalliontie 160
29340 Kullaa
www.silokallio.fi
Cafe Vapukka
Teollisuustie 12
29340 Kullaa
www.vapukka.fi
Vasonniemi beach and camping place